The Dallas Mavericks and the Dallas Cowboys should be congratulated. They sure do know how to really turn it on when it totally does not matter.
Tony Romo throws for 87 yards including a touchdown to Terrell Owens? That's pretty neat. I'm trying to think of a place where that could have been more useful. Oh yeah, the first round of the playoffs against the Giants. That would have been swell. Nick Folk was perfect in yesterday's Pro Bowl. It's almost like, had the Cowboys offense (lead by Pro Bowl superstars Romo, Owens and Witten) been able to get Nick Folk close enough, the Cowboys could have perhaps evened the score up a little with field goals. I think the moral of the story is that in terms of priorities, playing well when it counts comes in a distant third behind trips to Hawaii and jello shots in Cabo. Apparently the only chance that the Cowboys won't choke in the post-season is if Cancun somehow scores an expansion NFL franchise. Then when the Cancun Jagerbombs make it into the playoffs and secure home field advantage, the Cowboys will know what to do. I just hope they can find some of those funny t-shirts with a hard-body in a bikini airbrushed on them. And a hat that can accommodate two Miller Light cans effectively.
The Mavericks also seem to be itching for an early start to their summer break based upon how poorly they fared against the Pistons last Sunday and the New Jersey Nets last night. Jason Kidd was kind enough to point out to the Mavericks that with Devin Harris out, the Mavericks have no point guard. Even resorting to trying to knock Vince Carter unconscious proved to be fruitless. The Mavs had a nice little streak going with three straight victories (all, eerily, were 9 point victories) but beating teams like the Memphis Grizzlies by 9 points is hardly any way to earn respect. With Boston bringing prestige back to the long ridiculous Eastern Conference, the days of a Spurs-Suns-Mavs dominated NBA seem to certainly be at an end. Let's see if the Mavs can handle Philadelphia tonight. I hear that the 76'ers have really fleshed out their lineup by allowing some of the Wachovia Center's janitorial staff try their hand at free throws and layups. Maybe it's time the Mavs started letting the ManiAAcs or the Mavs Dancers or (dear sweet baby Jebus, forgive me for writing this) Mavs Man call some plays. Yes, I just claimed that the Mavs might play better if the mascot with severe third-degree burns covering his body was allowed to contribute more.
While I am complaining about the Cowboys and Mavs, I would also like to point something out. A surefire way to convey your doucheness without having to open your mouth and proclaim your love for things like Nickelback, the MTV show
Cribs
or your aspirations to get bigger rims on your Denali is to sport the hallmark douche-king hairstyle.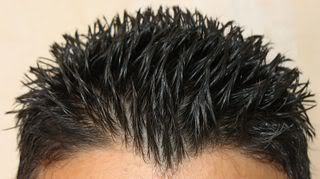 It's a proven fact that you cannot play to your full potential and can endanger your team's performance in the playoffs with that hair-don't. Don't believe me?: