(Photo Courtesy of Me; Blurriness Courtesy of Blackberry Curve)
I spent my last night as a 26 year old winning free tacos at the American Airlines Center. I didn't even think that Carlos Boozer knew it was my birthday but apparently he did and decided to give me an early birthday present by getting himself fouled out of the game. Then Josh Howard was all "well, I guess that means I have to get her something too" so he went ahead and scored 47 points by himself. Did I mention that I think Matt Harping is a total tool? Stackhouse had himself a nice little hot streak of three pointers in the second half. And if any Utah players missed their free throws in the second half, I would like to think that it was my offsetting brick waving that spooked them. Or the fact that we were sitting behind a pack of particularly hyperactive Hasidic teenage Mavericks fans. When the sun goes down on Saturday nights, those guys LOVE to stand up.
So Saturday night's game reaffirmed my shaky faith in the Mavs and reminded me that they might still at least TRY to win some regular season games. I would also like to point out that my record in the past year for games attended with earned tacos is 3-0. When I go to games at the AAC, the Mavs not only win but they win AND score at least 100. So I would like to offer my services as a good luck charm to the Mavs. In return for complimentary seats at all home games, I will guarantee all games I attend will end with the Mavs winning and scoring more than 100.
The damning evidence that I am one year older and probably not any wiser:
It all started out so civilized. Marjorie even ordered up a big tall glass of milk
Just being silly after drinking too much Dr. Thunder out of our shared thermos
I'm auditioning to be the next Pat Summerall/chimp
Josh's hands got shaky from all the caffeine in that Dr. Thunder
Not pictured: Mark Followil openly staring at a cop's ass directly behind us
The moment in the evening where we all started working a little blue
The moment where Josh replaced one of his eyes with a wolf's eye to distract everyone from his rampant man-orexia
The part where it starts to get sloppy and unprofessional
The picture no one knew was being taken
The part where Josh starts talking about his "goose" being "cooked"
The part where TJ and I try to look presentable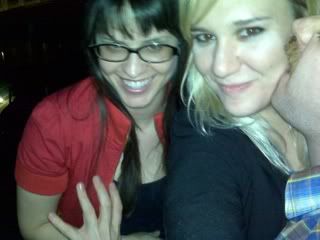 The end.