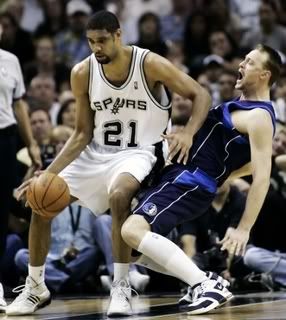 OH MY GOD! CAN IT REALLY BE TRUE? PLEASE DON'T TEASE ME WITH SOMETHING LIKE THIS!
So most people would read that article and thing "Hmmmm, interesting. Jason Kidd back in Dallas? That could be good depending on what the cost is."
And yeah, whatever, you can think like that. Let me say that I don't like Jason Kidd and I don't think he's worth much to us. And he's no spring chicken. However, there are supposedly two potential scenarios in which Jason Kidd would end up back in Dallas. One involves trading Devean George, DeSagana Diop, Jerry Stackhouse and a draft pick for him. That's stupid. Let's not even dignify that idea with a response.
Scenario two is:
Trade Jason Terry and Devin Harris in return for Jason Kidd and......get ready.......seriously, sit the fuck down.......are you sure you are ready?........
THE RIGHTS TO KEITH VAN HORN!!!!
Let me stress that I think losing George, Diop, Stackhouse, Jet OR Devin Harris is a terrible idea. Especially for an aging asswipe. That being said, this blog was established for one reason and one reason only. To talk about Keith Van Horn. Mostly about how badly he played. Also, I think I frequently brought up the following quote from an article about him:
"His voice is that of a boy turned rapidly into a man, simultaneously soft and deep in the manner of an acoustic bass. He enjoys the music of tranquil crooners Toni Braxton and Baby Face."
I am proud to discover today that if you google "Keith Van Horn" and "Babyface", this very blog is your third result below the two archived copies of the original article.
I started this blog to express my love for a basketball team that, ironically, I came to love after seeing a 1994 Mavs game featuring hot rookie Jason Kidd. But I'm not 13 anymore and Jason Kidd hasn't been a hot anything in about five years.
How about New Jersey keeps Jason Kidd and we bring Keith Van Horn back to Dallas to replace Mavs Man? Or maybe he can go to massage therapy school and get his massage degree or whatever the fuck they call it and he can become the official team massage therapist. With his soft, deep acoustic bass voice. And his Tony Braxton mix tape.
Dear God,
I miss Keith Van Horn. Not his basketball skills or lack thereof. I just miss him.
Sincerely,
Your Tow-Headed Creation