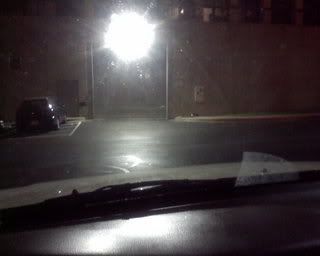 Wednesday March 14
Get to Austin and check into my Motel 6 room that I have to stay in for one night. They give me a handicapped room. The sink is approximately 2 feet from the ground. I have to sit down to brush my teeth. It's raining really hard. A few coworkers and I have a team meeting at the Hilton on the covered porch. While we're sitting there, a group consisting of four dudes dressed up like Grateful Dead roadies or cosmic cowboys or whatever the fuck they think they look like are standing across the street being interviewed by a TV crew and having their picture taken from multiple angles. One of my coworkers point out that they look like douchebags. I agree but there is a nagging suspicion that I know the douchebags in question. I feel bad for calling them douchebags when they turn up at The Theater Fire soundcheck and I realize they are VietNam. I broke up a fistfight between Josh from VietNam and my friend Mark back in 1998. I digress.
Go back to Motel 6 for a shower and watch the first half of the Suns-Mavs game. Go to Room 710 for the Theater Fire showcase. They have the game on. I realize that I can't handle a double overtime game in conjunction with South by Southwest. I choose to watch the game until the bitter end. I am sad when we lose. I get drink tickets and I am a little more happy. Then I find this written on the wall in the women's bathroom:
Mike is the lead singer of the Riverboat Gamblers and also an apparently underloved man. Brothers and Sisters play at 1am but there are few people there and they sound pretty bad. Lots of Allman Brothers Band references are made, mostly by me. Then back to the Motel 6 where I fall asleep watching ESPN.
Thursday March 15
My mission statement for this year's South by Southwest was to be in the same room as Zach Galifinakis as much as possible. I kick off this mission by going to the Filter party. I walk into the bar and proceed to knock back a few morning beers (well, it's actually a little after 1pm at that point) sitting next to Zach. Free Miller Lite = "breakfast" thanks to Filter. It's about 85 degrees outside with 198474658% humidity. I have already heard all the jokes Zach does at the Filter party and even he admits that "it really sucks to stand up here and try to make people laugh at 9 am in the hot sun."
I write notes on coasters about how bad the bands are. I leave the Filter party and go to Waterloo Ice House. After the Theater Fire set, we find ourselves hanging out in the parking lot drinking beer next to the Theater Fire van which in turn is parked next to the Albert Hammond Jr./Kings of Leon van. I say hello to Albert Hammond Jr. who I kind of knew a few years ago and still share some mutual friends with. Then the Scion people give us all free baseball hats which leads to this: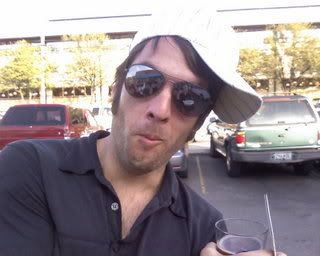 I like to think that my friends are a lot more fun to hang out with than some guy from the Strokes or Kings of Leon. My theory is further proven when Sean spits chewed up french fries at Nick's wife Kara. I check into my much nicer new room at the Sheraton on 11th then meet my coworkers at the Snocap party at the Four Seasons. Open bar. My boss takes us to some sports bar where we eat BBQ sandwiches and watch the Duke-VCU game. I was rooting for Duke because I think underdogs are overrated.
Went to Emos where I saw the two of the three best sets of the entire festival by the Octopus Project and Voxtrot. I also see the Gossip whose records usually bore me. But I can't deny that they put on a good show. Beth takes off her dress and sings the final song of the set wearing nothing but black bra and panties. Despite what you think of her "big girls need love" thing, you gotta admit that in this "thinness is next to godliness" world we live in, it takes serious balls to be that comfortable with your weight. But it also reminds me that the Gossip seem to be more about personality and crazy live shows than actual songs. Hung out with my old boss during the Voxtrot set and ate something from a wagon/stand/vehicle as I stumble back to the hotel after the show.
Friday March 16
Headed out at noon to Red 7 for the Mess With Texas party. There is a line about 400 people deep and the doors haven't opened yet. I go to Beauty Bar next door and thirty minutes later the line has dwindled. I get in and have another beer breakfast. I see what turns out to be by far the best set of the entire festival by Dark Meat. It's Polyphonic Spree without the sunshine and rainbows but instead in their place are songs about bad acid trips and getting in trouble at school. Turn around and realize that Michael Showalter and I have the same sunglasses. He gives me a "yeah we're pretty awesome" sort of nod which is all the validation I need. Go inside to hear Andrew WK's lecture on happiness which is not as funny as it seems on paper. He is followed by stand-up sets by Eugene Mirman who proclaims himself a "taste maker" and determines what is cool and what is not cool. Goes over a few things that are cool and a few that aren't cool then takes "cool" questions from the audience. Someone yells out "Rick Moranis" to which he responds that Rick Moranis is actually the only completely neutral thing in the world or as he said "Rick Moranis is like an alkaline and a base" which I thought was pretty true. Michael Showalter did a set in which he played "guilty pleasures" on his iPod most of which were truly awful. One of the songs was "Drops of Jupiter" by Train. This leads to David Cross telling a story about an ex-girlfriend of his who used to sleep with one of the guys from Train and a voicemail the guy from Train left on her phone in which he describes a party he's attending as "beautiful."
I kiss up to the door guys so I can come and go as I please and skip the line. It works so I head to the Noisepop party which is hosted by Zach Galifinakis. I witness him eat a grilled cheese sandwich with such speed that half of the cheese and crumbs end up in his beard. I actually help him get the crumbs and cheese out of his beard which is like braiding the hair of a million strawberry scented unicorns in my girl brain. He does more jokes that I've heard a bunch but it's an excuse for me to stand on the side of the stage and giggle. And to take another picture of him in all his pudgy glory.
Go back to Mess With Texas where I end up seeing the Gossip again. I have had more than a few beers which leads me to give Beth a hug and tell her that I'm from Georgia too. While she had every right to tell me to never touch her or speak to her again, she instead gave me a big hug and we chatted about being from Georgia and she tells me what Jarvis Cocker's cologne smells like. When I start talking about what Jarvis Cocker's cologne smells like at length, it's time to go back to the hotel and take a nap.
I wake up and head to Cafe Mundi for The Theater Fire and O'Death. O'Death are also one of the top sets I see. Go back to my hotel in time to watch The Good The Bad and The Queen from the patio of my hotel. They are truly awful. End up at a Sony BMG party on the top floor of my hotel. Kelli and I decide to bartend because it seemed like a good idea at the time. Tom Morello from Rage Against the Machine is at the party but seemed uninterested in testing my
Cocktail
-esque skills. Kelli and I set up a tip jar and made some money. The cops come multiple times and finally around 4am, Austin's finest decide to rage against the party machine and shut it down. Shouldn't Tom Morello be more angry about this brutal abuse of police power? Aparently this is the face I make when someone from Rage Against the Machine is at the same party I am at: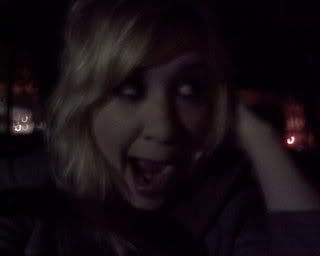 Saturday March 17
Wake up feeling like I had been to a rave followed by boot camp followed by a kegger. Went to The Theater Fire instore at Bella Blue and am told that David Fricke from Rolling Stone is record shopping next door. He actually saw the Theater Fire play at Beerland last year so I take a CD to give to him. He hits on me which is what we call "taking one for the team." Go to OK Mountain Gallery party where I see Weird Weeds and Peter and the Wolf. Stand in what is essentially a backyard drinking keg beer and wondering if this is what my Dad pictured when I told him last week that I was going to a convention in Austin. Back to the hotel for a nap. Find out that I have scored a pass for the Vice after party at the Elks Lodge. Watch a totally unfunny Saturday Night Live then watch the first half of the Stooges set at Stubb's from the hotel patio. Sing along to the killer version of "Gimme Danger" in the car on the way to the Vice party.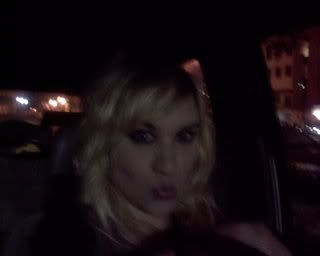 This is where things get interesting. The Vice party is at capacity within a few minutes of us getting in. A few of us take to the dance floor for a fit of bad white kids dancing to Chromeo which smoothly transitioned into Technotronic's "Pump Up the Jam" which causes us to garner the attention of a Vice photographer. That's never a good sign. We take refuge on the rooftop patio and are yelling at friends in the now-100 people long line when I hear what I think is a car crash in the driveway. Then security starts running to the front of the building and we are all told to move back as quickly as possible. Someone says that a guy has fallen off the roof. What had in fact happened was that THE MOTHERFUCKING BALCONY HAD PARTIALLY COLLAPSED AND SENT METAL AND BRICKS PLUMMETING TO THE GROUND! Which leads us to speculate whether balcony collapse is a DO or DON'T. Once we find out that miraculously no one had been hurt, the apathy of the partygoers reached a fever pitch as pictures were taken and balcony collapse jokes were made with plenty of references to the Simpsons episode where they play tennis in the benefit for victims of Balcony Collapse.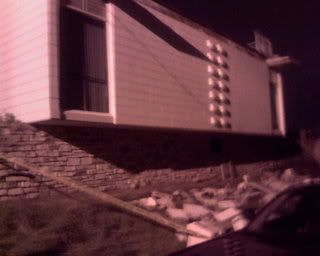 Me, Kelli and Eric Courson celebrate the fact that we did not die at an Elks Lodge: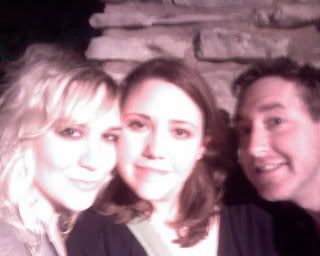 Everyone took refuge at the Purevolume party where we met a man from Lakeland, Florida who did the following things in no particular order:
- tell us that he found out his fiance was fooling around with his brother
- gathered us for a huddle where we piled our hands on each other's and yelled things
- showed us his picture ID repeatedly to prove he was 22 years old
As we left the party headed for our respective hotels, there was a very passionate group sing-along to "You Got Lucky" by Tom Petty. Because nothing's luckier than not dying on a rooftop.
Sunday March 18
Check out of the hotel and head home. Jamie Kennedy is on the radio in Austin clearly still very very very drunk. He's talking about coming to SXSW to hang out with his friends the Polyphonic Spree. Really? Do they travel in similar circles? Seriously? My mp3 player dies ten minutes outside Austin which leads me to navigate the vast wasteland of central Texas terrestrial radio. With a four day bender coming to a close and Movin' 107.5 finally coming in clearly around Waco, I had to agree with Movin' in their observation that "music makes you feel good." Chicken nugget kid's meals help too. Got home and commenced my yearly tradition of gathering all the random junk I have accumulated in my purse throughout the week and taking an inventory.
The picture above contains all of the following:
3 unopened Bud Lights
1 room service jar of grape jelly
17 condoms from the Vice party
1 SXSW wristband that someone left in my car
2 kazoos
8 parking garage validation tickets
Lessons I learned this year:
1. SXSW wristbands or badges are a complete waste of money
2. Brian Posehn hates me
3. Staying in a hotel downtown is totally worth the extra money
4. I wish I had the foresight to open a skinny jeans and ballet flats store on 6th
5. Damon Gough (Badly Drawn Boy) seems to be constantly confused and wanders around his hotel lobby with a street map
6. Balconies are not 100% reliable
7. Datarock, Dark Meat, Voxtrot, the Octopus Project, O'Death and The Stooges are all very good bands.
8. Without a wristband or badge I had *EASILY* the best time I've ever had at SXSW this year. And I spent about $50 total on cover charges to get into the few bands showcases that I really wanted to see or had missed their set at a free party. SXSW will never trick me into wasting $200+ dollars again.